There's only a few weeks to go until the LIBERATION PERMACULTURE International Permaculture Convergence 'edge' event!
 Nicole Vosper (
Empty Cages Design
 Cages Design), Graham Burnett (
The Vegan Book of Permaculture
), Pandora Thomas (
Black Permaculture Network
) and Rafter Sass Ferguson (
Liberation Ecology
) will facilitate a workshop that will explore if, how and why to place permaculture in a wider framework of radical social change, including the liberation of our non-human co-citizens. We will share ideas, design tools and practices to bring together people who share a political affinity within the permaculture movement. The session will be a participant-led open space for discussions and development of emergent themes, sharing best practice in linking permaculture, community organising and resistance. Participants will explore anti-oppression practice and share how we design and act for social and environmental justice.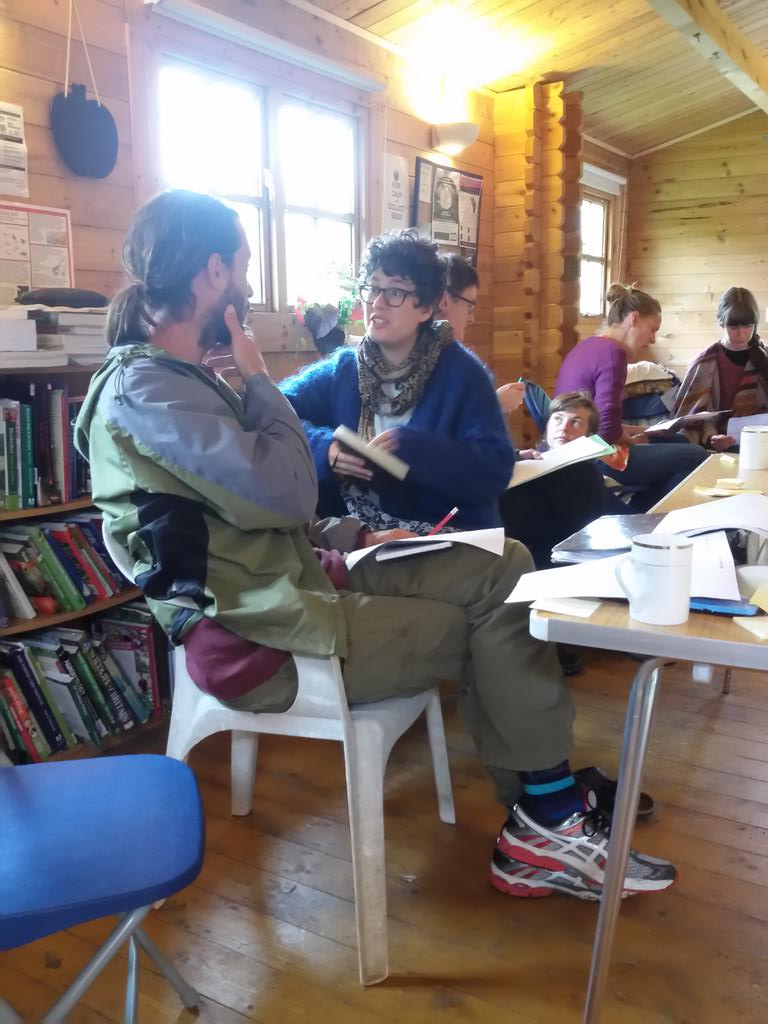 BACKGROUND
The weekend emerged from conversations between Graham & Nicole and the continual frustrations with the Permaculture movement in the UK (gender, race, privilege, liberal perspectives, focus on lifestyle changes vs structural/radical/systematic change, desire for neutrality etc etc), and to create a space around the time of the International Permaculture Convergence to support these conversations to happen more explicitly. The workshop aims are:
Explore why & how to place permaculture in a wider framework of radical social change
Share ideas and design tools
Bring people together who share political affinity within the permaculture movement
LIBERATION PERMACULTURE – SOME THOUGHTS TO CONSIDER
"Liberation Permaculture is permaculture that is being used for liberatory means, as a tool towards ecologically and socially just ways of living. It is a label coined from a permaculture design course that took place in North America in 2010 exploring how permaculture can be used in grassroots resistance & community organising work. Some potential principles of liberation permaculture might be;
Principles of Liberation Permaculture
Places permaculture in a wider context of social change
Observes power relationships & structures within systems
Recognises oppression as part of 'people care' & aims to consciously design oppressive practices and mindsets out of systems for the risk of otherwise perpetuating them
Works in solidarity with multitudinous social struggles, indigenous peoples & ecological resistance movements
Ensures yields are shared across genders, races, classes, ages and so forth & challenge privilege consciously reducing inequalities
Supports the regeneration of our landbases without exploitative relationships and rejects speciesm and the domination of nonhumans
Places re-skilling in a context of increasing autonomy and self-determination
Takes a 'beyond our backyards' approach working for ecosystem & community restoration on broader scales than beyond home gardens
Practitoners use observation and intelligent ecological design principles to inform decision making in all areas of life, not just farms but organisations and movements
Places permaculture in the context of rebuilding land based cultures rather than 'fitting in' or mainstreaming into capitalist & oppressive societies
Uses the practical applications of permaculture e.g. food growing, cleaning water, to genuinely improve people's lives beyond that of a privileged few.
Practitioners practice mutual aid for collective living and design systems that maximise power and relationship building within communities.
Ultimately liberation permaculture is about 'obtaining a yield', by addressing root causes of systematic dysfunction. "You cannot control a system. You can only design & re-design" – Donella Meadows
In summary, it is clear that permaculture, as a concept in itself, challenges the foundations of modern industrial civilised society, simply from its premises of recognising ecological limits and its promotion of core ethics, such as caring for people, the earth and redistributing surplus. However many criticise permaculture because it doesn't fully challenge the roots of oppressive systems, the relationships or power at play. If we are truly to re-design our lives for freedom and autonomy and respect for the land then we need to break the denial and get to the roots of understanding our current state of affairs. If permaculture is all about relationships, then we need to consciously design for relationships without domination. This is the premise of liberation permaculture".
– Nicole Vosper on Liberation Permaculture
Dial House is a sixteenth century farm cottage with a one acre garden nestling deep in the countryside in Essex, England, fringing Epping Forest. Since 1967 the place has been an 'open house', the base of operations for a number of cultural, artistic and political projects ranging from avant garde jazz events, founding the Free Festival movement (eg, Windsor and Stonehenge) and the anarcho-punk band Crass. After some years away from the public eye, residents Penny Rimbaud and Gee Vaucher have decided that Dial House should become a 'centre for dynamic cultural change', including the hosting of permaculture events.
There are still LIMITED places available on this weekend, find out more here